New Irish Works
New Irish Works presents photographic projects by 25 artists, proposing a selection of what constitutes a testament to the wealth and legacy of photography in Ireland.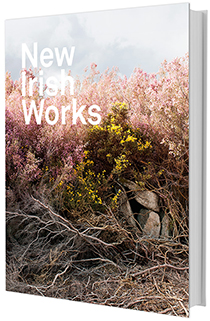 In the process of reviewing photography in Ireland, PhotoIreland established a panel of curators and initiated a conversation that sought to explore the diversity of emerging practices of Irish and Irish based artists. The curatorial panel included Karen McQuaid, curator at The Photographers Gallery, London; Michele Horrigan, artist and curator, Limerick; Ronan McCall, photographer and curator, Dublin; Pádraig Spillane and Pamela Condell, the curatorial team 'Stag & Deer', Cork; Moritz Neumüller and Ángel Luis González Fernández, from PhotoIreland Festival.
The panel looked at the large number of works submitted to an open call, from Ireland and abroad. The process brought together a final cross-section of projects from a set of excellent artists. New Irish Works celebrates their work as an exciting addition to contemporary photography in Ireland.
The range of work offered in New Irish Works demonstrates an evident critical awareness of the medium, often questioning and engaging with its own limitations. While some practices are navigating around open-ended narratives, and ambiguity, others show a clear desire to both subscribe to and challenge a traditional documentary practice. Irish photographers are also more frequently elaborating on the interrelated complexities of global as well as local concerns and in turn there is a well-informed international influence perceptible in the works chosen.
Planned as a multi-city experience, the exhibition divides the 25 projects between seven venues in Dublin, Limerick, and Cork. In Dublin, The National Photographic Archive, the Istituto Italiano di Cultura, the Alliance Française, the Goethe Institut, the Instituto Cervantes. In Limerick, Ormston House, and in Cork, TACTIC. The exhibition is accompanied by a publication of the same title, kindly sponsored and printed by Castle Print, Galway.
New Irish Works will be presented in Paris late in the year, to join key events programmed during Paris Photo, becoming a travelling exhibition that will bring further attention to photography in Ireland.
The project has been made possible with the support of a considerable number of partners, sponsors, and individuals, and we would like to thank everyone involved for their participation, energy, and dedication.
Dublin
National Photographic Archive
21 Jun–3 Aug
Mon–Sat 10am–5pm / Sun 12–5pm
Opening: 6pm–9pm Thu 4 Jul
Barry W. Hughes, Dorje de Burgh, Dragana Jurisic, Kevin Griffin, Linda Brownlee, Robert Ellis, Shannon Guerrico.
Istituto Italiano di Cultura
25 Jun–24 Jul
Mon–Fri 11am–5pm / Sat–Sun Closed
Opening: 7pm Mon 24 Jun
Stefania Sapio
Alliance Française
2 Jul–30 Aug
Mon–Thu 8.30am–6.30pm / Fri 8.30am–5pm
Sat–Sun Closed
Opening: 6.30pm Mon 1 Jul
Shane Lynam
Goethe Institut
28 Jun–26 Jul
Tue–Thu 10am–7pm / Fri–Sat 10am–1.30pm
Sun–Mon Closed
Opening: 6pm 27 Jun
Ethna O'Regan
Instituto Cervantes
11–30 Jul
Mon–Thu 12-7pm / Fri 10am–2pm / Sat–Sun Closed
Opening: 6.30pm Wed 10 Jul
Paul Gaffney
Limerick
Ormston House
4–27 Jul
Wed–Sat 12–6pm
Opening: 7pm Wed 3 Jul
Claudi Nir, Cáit Fahey, Caroline Mc Nally, Grainne Quinlan, Ieva Baltaduonyte,
Miriam O' Connor, Roseanne Lynch.
Cork
TACTIC
5–27 Jul
Mon–Sat 12–6pm / Sun Closed
Opening: 6pm Fri 5 Jul
David Thomas Smith, Martin Cregg, Maurice Gunning, Muireann Brady, Yvette Monahan, Patrick Hogan, Mandy O'Neill.