New Irish Works at Goethe Institut, Dublin.
Ethna O'Regan, Any Moment Now, 2012

Goethe Institut, 37 Merrion Square, Dublin 2
Opening: 6pm Thu 27 Jun
Dates: 28 Jun-26 Jul
Opening hours:
Tue-Thu 10am-7pm / Fri-Sat 10am-1.30pm / Closed Sun-Mon
New Irish Works brings together a selection of 25 Irish and Irish based photographers, underlining the diversity of practices that constitute contemporary Photography in Ireland. The exhibition states and celebrates the emergence of a new wave of artists, and it is accompanied by a dedicated publication. Planned as a multi-city experience, it is hosted at various locations in Dublin, Limerick, and Cork.
The Goethe Institut will host selected works by Ethna O'Regan.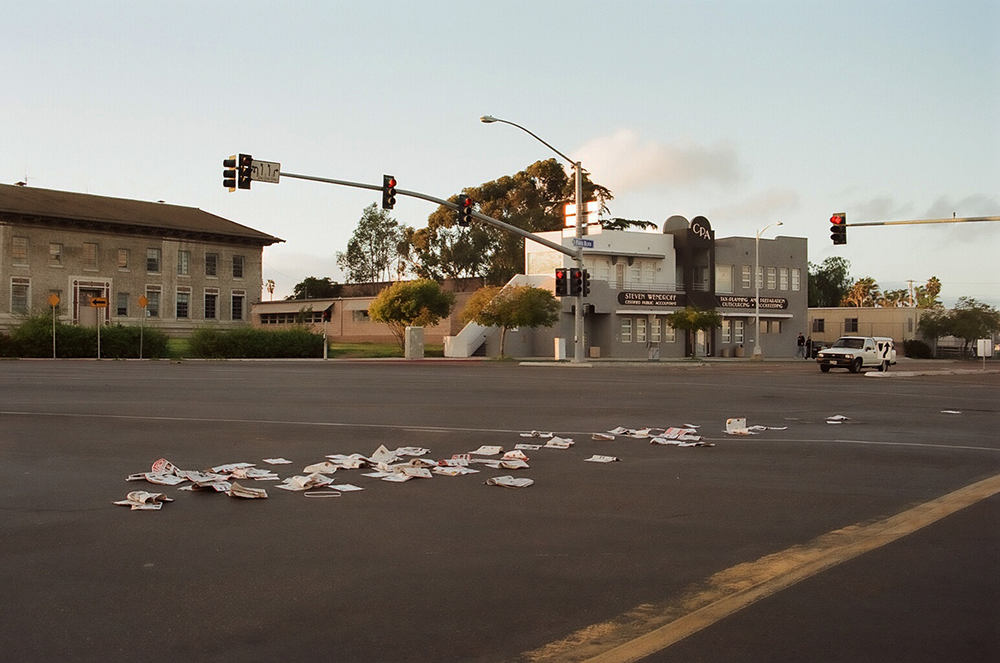 In times of crisis, a kind of inertia can take place as if your world is suspended, lying in wait for something to happen or for things to change. Life comes to a standstill so to speak, frozen in time, unable to move forward, not knowing where to go from here. One coping mechanism is to tend towards creating order in our surroundings. However, the unpredictability of nature repeatedly undermines our attempts to control it. For the most part, we see the world not as it is but as we would like it to be. That any moment now, things may change is an optimistic outlook that is held by many to help maintain ones sanity through uncertain times.
On her wanderings, Ethna O'Regan is frequently surprised by happenstance scenarios, ones that we often pass by – or they us – unnoticed or acknowledged. When she comes upon them, they strike her almost as if they have been staged, she documents these found slices of life and then moves on. All around she sees eccentricity in the marks that we make and leave behind, borne out of our need to contain the unsettling open-endedness of our existence. Rather than being mere depictions of the banality of urban life, the photographs seek to dig deeper, tapping into our collective psyche by navigating the strange terrain of our inherent, yet futile, quest for absolute certainty.
---
See all exhibitions part of New Irish Works.
---
Image credit: Ethna O'Regan, from the series 'Any Moment Now'.