Portfolio 13 – International Portfolio Reviews

Moxie Studios, Pembroke Row, Lad Lane, Dublin 2
Dates: 13-14 Jul / 10am -5pm
With the support of the FrenchEmbassy, the Polish Embassy in Ireland, and the Goethe Institut.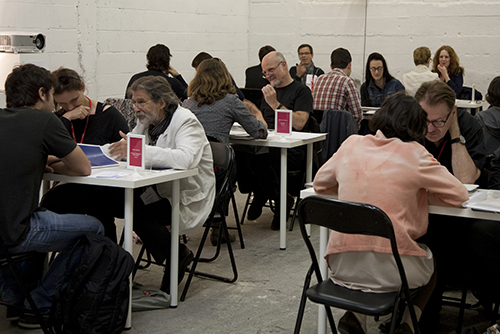 PhotoIreland Festival's portfolio review weekend presents a unique opportunity for emerging artists worldwide to highlight new photographic projects and meet with international professionals to further their careers. The winner of the portfolio reviews weekend will be offered a solo exhibition in PhotoIreland Festival 2014.
The winner of the portfolio reviews weekend will be announced at 6:30pm the 14th of July.

The Reviewers
Andy Adams, Flak Photo, Wisconsin.
Barry W Hughes,Director, SMBH Magazine, Dublin.
Benjamin Füglister, Co-editor, European Photography Magazine, Berlin.
Calin Kruse, Founder and Director, Dienacht Magazine, Leipzig.
Dieter Neubert, Director,International Photobook Festival, Kassel.
Elisa Medde, Managing Editor, Foam Magazine, Amsterdam.
Irène Attinger, Library Curator, Maison Européenne de la Photographie, Paris.
John Duncan, Co-editor, Source Photographic Review, Belfast.
Jörg M. Colberg, writer, photographer, and educator, Conscientious, MA.
Karen McQuaid, Curator, The Photographers Gallery, London.
Katja Stuke & Oliver Sieber, Böhm/Kobayashi, Düsseldorf.
Krzysztof Candrowicz, Director, Fotofestiwal, Łódź
Leszek Wolnik, Curator, The Copper House, Dublin.
Markus Schaden, Publisher, Schaden.com, Cologne.
Matt Packer, Curator, Lewis Glucksman Gallery, Cork.
Moritz Neumuller, Independent Curator, Educator and Writer, Barcelona,
Olivier Laurent, News and Online Editor, The British Journal of Photography.
Pádraig Spillane and Pamela Condell, Curators Stag & Deer, Cork.
Rui Prata, Founder, Encontros da Imagem Festival, Braga.
Susan Zadeh, Founder and Director, Eyemazing, Amsterdam.
Stefano Stoll, Director, Festival IMAGES, Vevey.
Yasmina Reggad, Director and Founder, Photo-Festivals, London.
Participants
Adelaide Ivánova
Aishling Muller
Alberto Feijóo
Alexandra Anikina
Annamaria Belloni
Antoine Durand
Antonina Zharko
Antonio Pérez Río
Aoife Banville
Barbara H Larkin
Basil Al-Rawi
Bella Walsh
Bernadette Keating
Carlos Azeredo Mesquita
Cindy Morrissey
Claire Laude
Daniel Mayrit
Dara McGrath
David Monahan
David Nugent
Diane Arques
Faye Hobson
Garvan Gallagher
Gerry MacManus
Giuseppe Moccia
Gregory Michenaud
Gustavo Aleman Perez
Hortense Le Calvez/
Mathieu Goussin
Hugo Moura
Imrich Veber
Janire Najera
John Edmondson
John Jordan
Karen Tierney
Lena Aliper
Linda Rafferty
Lorna Evans
Lynn Rothwell
Marco Frauchiger
Miriam O'Connor
Nadine Ethner
Oksana Afonina
Oliver Parzer
Palíndromo Mészáros
Paul Gaffney
Paul O'Connor
Robert Ellis
Rory O'Neill
Roseanne Lynch
Ruby Wallis
Sanne Thunnissen
Sergey Sergeev
Soichiro Koriyama
Sono Aida
Thomas Eugster
Ulrike Schmitz
Yvette Monahan
Background image credit: Adelaida Ivánova, from the series 'Adelaide', 2012