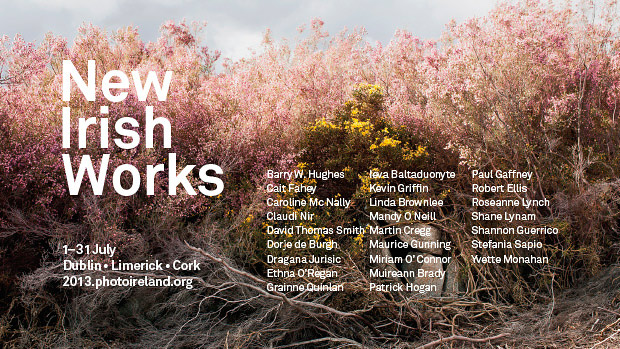 PhotoIreland Festival launches this week in Limerick, Dublin and Cork. Join us for a very special week of celebrations:
Cork – 5th of July – 6pm


TACTIC »
New Irish Works
New Irish Works brings together a selection of 25 Irish and Irish based photographers, underlining the diversity of practices that constitute contemporary photography in Ireland. The exhibition states and celebrates the emergence of a new wave of artists, and will be accompanied by a dedicated publication. Planned as a multi-city experience, it will be hosted at seven locations in Dublin, Limerick, and Cork.
The presented artists are: Barry W. Hughes, Cait Fahey, Caroline Mc Nally, Claudi Nir, David Smith, Dorje De Burgh, Dragana Jurisic, Ethna O'Regan, Grainne Quinlan, Ieva Baltaduonyte, Kevin Griffin, Linda Brownlee, Mandy O Neill, Martin Cregg, Maurice Gunning, Miriam O' Connor, Muireann Brady, Patrick Hogan, Paul Gaffney, Robert Ellis, Roseanne Lynch, Shane Lynam, Shannon Guerrico, Stefania Sapio, and Yvette Monahan.
The exhibition has been curated by Karen McQuaid (Curator, The Photographers Gallery), Michele Horrigan (Artist and Curator), Ronan McCall (Photographer and Curator), Pádraig Spillane and Pamela Condell (Stag & Deer), Moritz Neumüller and Angel Luis Gonzalez (PhotoIreland Festival).
With the kind support of
In Dublin: National Photographic Archive, Goethe Institut, Istituti Italiano di Cultura, Instituto Cervantes, and Alliance Française.
In Limerick: Occupy Space and Ormston House.
In Cork: Tactic and Stag & Deer.
Print partners: FIRE Fine Art Printers.
PhotoIrelad Festival is grant aided by the Arts Council of Ireland, Dublin City Council, Limerick City Council, and Cork City Council.
Key events in PhotoIreland Festival 2013: