Rosanne Lynch, matter
New Art Gallery, basement, 59 Francis Street, Dublin 8
Opening: 6pm Thu 27 Jun
Dates: 27 Jun-9 Jul
Opening hours: Wed-Fri 10.30am-5.30pm / Sat 11am-5pm / Closed Sun-Tues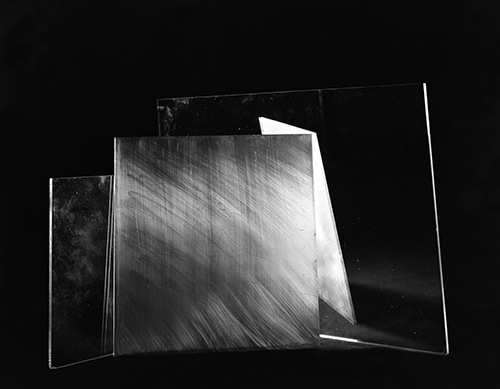 This new body of work is a particular consideration of light and dark, form and outline, material qualities, and the camera as a tool of abstraction. The glass, brushed aluminium, mirrors and perspex are sometimes backlit; arbitrary thumb prints and dust establish the materiality of transparency; seemingly unusual densities emerge; perspectives become skewed; white planes with black space. Through the positioning of objects, reflection and refraction, lines appear where there is seemingly no matter.
 This show is curated by Mark St John Ellis, Director, New Art Gallery.
Image credit: Rosanne Lynch, from the series 'matter'.