Jeanette Lowe, Pearse House: Village in the City

National Photographic Archive (NPA), Meeting House Square, Temple Bar, Dublin 2
Dates: Aug-6 Oct
Opening: Opening early August TBC
Opening hours: Daily 10am-5pm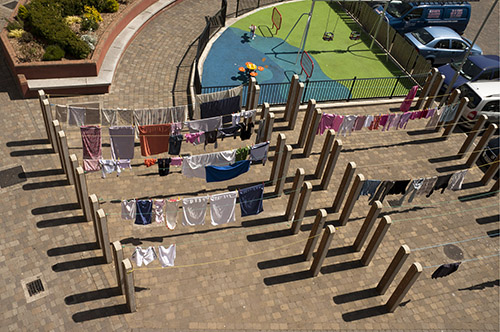 Flat 8B Pearse House Flats
Opening early August until October
Dates : Daily 11am – 5pm
Gathering event and official opening event Friday 6th September
Pearse House: Village in the City is an extraordinary and unique exhibition by award-winning photographer Jeanette Lowe. In a series of startling photographs she has captured a hidden treasure of modern Dublin that is Pearse House Flats.
This exhibition is located between the National Photographic Archive (NPA) gallery in Temple Bar and Pearse House Flats, unearths a vital, vibrant, and somewhat invisible 'village' in modern day Dublin and celebrates one of Dublin's oldest communities
The exhibition follows on from her hugely successful exhibition last summer "Pearse House: Memories; Perceptions; Reality" where Jeanette converted a flat in Pearse House into a gallery and exhibited her beautiful contemporary photographs of the people and environment of the flats alongside hundreds of old photographs contributed by local people. The exhibition won the People's Choice Award in the PhotoIreland 2012 Festival.
The uniqueness of the exhibition is that the visitor will not only get to experience the history and heritage of the flats in a gallery environment through the use of photography and other media but can also choose then to visit a flat in Pearse House converted back to the 1930s and showcasing more photographs. They see the flats as they were and as they are now – a truly immersive experience. Walking tours will also be a feature between both venues.
This promises to be more than a photographic exhibition and one definitely not to be missed.
Image credit: Jeanette Lowe, from the series 'Pearse House: Village in the City'.