Book & Magazine Fair 2013

Moxie Studios, Pembroke Row, Lad Lane, Dublin
Opening: 7pm Thu 11 Jul
Dates: 11-14 Jul
Opening hours: 11-6pm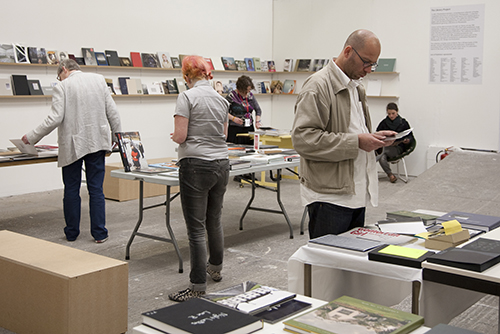 The Book & Magazine Fair 2013 is the ideal place to purchase contemporary books, meet the publishers and artists in person, network, find inspiration and browse through the amazing publications on display.
New publications presented this year by:
2ha, 19/80 Editions, AKAAKA, Aki Gallery, Belfast Exposed, Black Dog Publishing, Blow Magazine, Bokeh, British Journal of Photography, BSide Books, Camera Austria, Cross Editions, Dienacht, Diesel, DIT, Draw Down, Einer Books, ESC Zine, F22, The Friday Morning Coffee, Fundación Pablo Horstmann, Garden City, GUP, Hatje Cantz, Imprint Zine, IPG Project, J&L Books, Kehrer Verlag, Kesselskramer, Kropka, Millenium Press, mono.kultur, Pogo Books, Portobello Photographic Press, Poursuite, Pierre von Kleist Editions, Power Shovel Ltd., Prism Magazine, Radius, Revolver, Ruiné Magazine, Roundtower, Schilt, Sequence, Simonett, Snoeck, Source Magazine, Sviesos Rastas, T&G Publishing, The History Press Ltd, The MAC, Twenty Shelves, Weekand, and more.
New self-published:
Norbert Bayer, Ute Behrend, Shen Chao-Liang, Jan Dirk van der Burg, Filipe Casaca, Lucia Ganieva, Lena Grass, Norbert Gortz, Klaus Graubner, Gabriele Harhoff, Patrick Hogan, Andy Jones, Ted Oonk, Louis Porter, Caroline Mc Nally, Palíndromo Mészáros, Yvette Monahan, Coralie Fournier-Moris, Salvatore Santoro, Thomas Sauvin, Yury Toroptsov, Nathanael Turner, and more.