The Artist's Eye: Photographic Portraits of Artists

The Lewis Glucksman Gallery, University College Cork
Dates: 29 Mar-7 Jul
Opening hours: Tue-Sat 10am-5pm / Sun 2-5pm / Closed Mon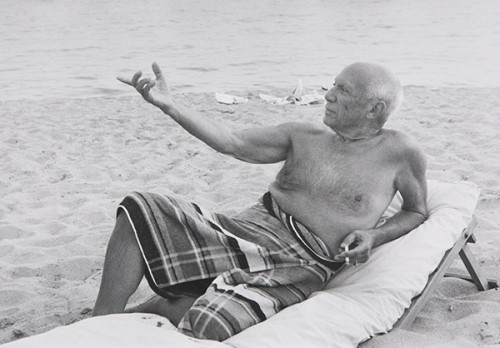 The Artist's Eye presents photographic portraits of artists working, relaxing, and sometimes deliberately posturing for the camera. It is an opportunity to see into the intimacy of the studio environment as many artists are depicted in the dynamic and personal creation of the work of art. We glimpse the surrealist Max Ernst smoking in an ornate chair, the neatly arranged ceramics of Pablo Picasso and the intense performances of Joseph Beuys.The Artist's Eye is produced in partnership with the Galleria Civica di Modena, Italy, and features over eighty artworks drawn from their extensive collection which includes both historic and contemporary photographic images.
From August Sander's 19th century documents of the artist as a professional worker, to the knowingly dramatic stance of Salvador Dali, and from the iconic picture of John Lennon and Yoko Ono in bed together to the thoughtful self-portraits of Francesca Woodman and Elina Brotherus, The Artist's Eye will give Irish audiences an insight into the many ways in which artists create their artworks, and develop an artistic persona.
For more information visit The Lewis Glucksman Gallery.
Image credit
Featured image: Lucien Clergue, Picasso, s.d.
Background image: Mimmo Jodice, Grande Cretto Nero di Alberto Burri, Museo Capodimonte, Napoli, 1978.